Plan ahead and join our upcoming activities, forum or training workshop.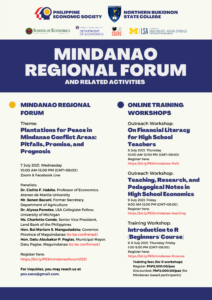 The Philippine Economics Society is once again holding regional fora this year, starting with the Mindanao Regional Forum on 7
Read More »
Social Science and Society Lectures
These lectures by subject-matter experts on various social science topics were delivered either by individuals who are affiliated with the Philippine Social Science Council (PSSC) or during PSSC-organized events.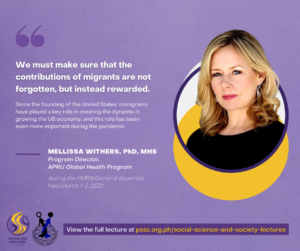 Dr. Mellissa Withers, Executive Director of the APRU Global Health Program, presents her lecture on how immigrants in the United States have been impacted by the pandemic during the 2021 Philippine Migration Research Network General Assembly held last March 1-2, 2021.
Read More »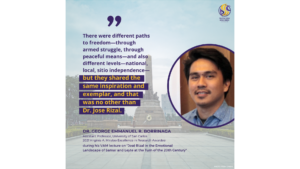 On 23 February 2021, Dr. George Emmanuel R. Borrinaga, Assistant Professor at the History Section – Department of Anthropology, Sociology, and History of the University
Read More »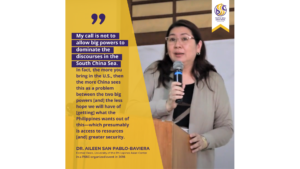 In an event organized by the Philippine Social Science Council in 2016, the late Dr. Aileen San Pablo-Baviera, former Dean of the University of the
Read More »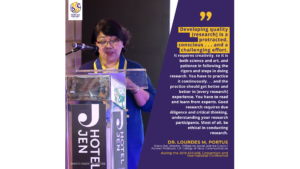 With the launch of PSSC's online courses on Digital Approaches to Social Science Research, let's take a look at how Executive Director Dr. Lourdes M.
Read More »
Featured Social Scientists
PSSC takes pride in its roster of social scientists who have served the discipline and the nation throughout the years. Get to know them and their valuable work here.
Think Pieces presents the views, arguments, reflections and insights of Filipino scholars and educators on various topics of national interests and current events. The articles, essays and related resources in this page seek to encourage critical thinking and spark meaningful exchanges. Think Pieces is developed by the Philippine Social Science Council (PSSC) in cooperation with its member-organizations.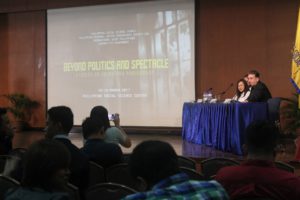 Two social science professors …
Watch these webinars organized or co-organized by PSSC and its member-organizations.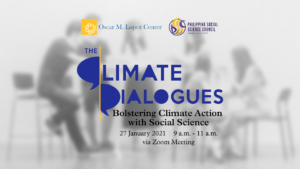 On January 27, 2021, the Philippine Social Science Council and the Oscar M. Lopez Center held The Climate Dialogues: Bolstering Climate Action with Social Science via Zoom and
Read More »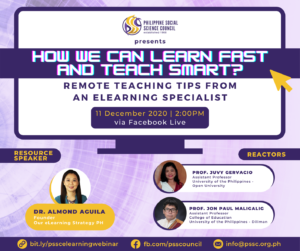 On December 11, 2020, the Philippine Social Science Council held its last webinar for the year, How we can learn fast and teach smart? Remote
Read More »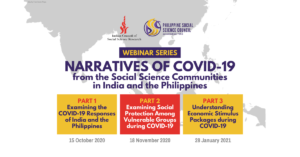 To officially launch the partnership between the Philippine Social Science Council (PSSC) and the Indian Council for Social Science Research (ICSSR), a series of webinars
Read More »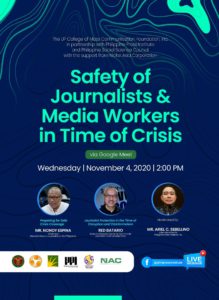 Following the webinar on Media Freedom in the Time of Pandemic, the University of the Philippines College of Mass Communication Foundation Inc. (UPCMCFI), in cooperation
Read More »